---
Directions:
Portland is 120 miles north of Boston, about a 2 hour drive, and approximately 1 hour from Portsmouth, NH.
Coming from the South: Take Rt 95 North, which becomes the Maine Turnpike. About 45 miles into Maine, take Exit 44 (formerly 6A) onto Route 295 to Portland.
In 3-4 miles you will see Portland on the hill on your right. Almost past the city (after Congress St. and two Forest Ave exits), take the Franklin St exit. The ramp leads onto Franklin, a divided city "arterial." Go 1/2 mile up the hill, then 1/2 mile down the hill. At the bottom of the hill Franklin St intersects with Commercial St. Straight ahead you will see the 4 story brick Casco Bay Ferry Terminal Parking Garage (usually full in summer).
Go straight across Commercial St., along the left (north) side of this building and you'll come to the terminal on your right, across from the wall painted with whales.
If you're taking your car, drive right into the line then go inside to buy your ticket. Cars load 15 minutes before departure.
If you're not taking your car, there is a 5-minute zone where you can park to go inside to buy tickets, and to drop off your freight at the end of the building. Freight must be dropped off at least 30 minutes before departure. Parking is usually terrible, you might have to roam and then hike back, so be sure to leave yourself plenty of extra time. Ferries leave right on schedule!
Click here for Casco Bay Lines information on (a) Parking, (b) Public Transportation and (c) Driving Directions
Parking Info
---

All tickets are round trip and are collected in Portland at boarding.
Books of 5 round trip tickets are available and may be shared by family members.
Round trip tickets expire 60 days after issue. Books expire 2 weeks after issue.
Child fares are for children aged 5-9. There is no charge for children under 5.
Half fares are available for seniors aged 65 and up and for persons with transportation disabilities. Assisted boarding is available upon request.
Dogs (except service animals) require tickets to board and must be kept leashed at all times.
Bicycles require tickets, or must be shipped as freight.
From mid-April to mid-October, it is very expensive to bring a vehicle to the island: $82.65 ($62.65 Mon-Tues, $36.65 Weds only)! Also, the wait can be quite long on weekends.
Normally, there are no reservations (only for commercial vehicles). At one time there was a trial program accepting reservations for the late night boats on summer weekends, so it may be worth calling CBL at (207) 774-7871 to find out.
Passengers may bring whatever they can carry or cart (2 wheels only) onto the ferry in a single trip.
Shipping freight is a viable option, now that there is taxi service on the island! (see below)
This site also has good advice for packing, preparing, and drop-off.
Tips for busy weekends
Except during the summer, the last car ferry leaves the mainland at 5:35pm and Peaks at 6pm (on rare busy occasions, CBL decides to run an extra boat). On Sundays in the summer, the car ferry is very busy in both directions. If it looks as if your car won't get on at all, repack your most essential items so you can carry them on and off, or ship them as freight, and return for your car the next day (Monday rates are cheaper).
If you're stuck in line for departure from Peaks, the Cockeyed Gull serves a nice lunch.
For trips to the mainland, note that on Peaks there is a 72-hour limit on parking in the lot by the ferry.
---
Taxi
There is taxi service on Peaks Island. If you are absolutely dependent on it, call ahead! (207) 518-0000
Directions
274 Island Avenue, Peaks Island, ME 04108
If you have Google Earth, click here to view the Feathered Nest from above!
Mapquest | Island map | Another island map
Coming up hill off the ferry, turn left onto Island Ave.
In about a quarter mile, the road makes a sharp right.
Take the first left. This is still Island Avenue!

The elementary school will be on your right.
We are about four houses down on the left.
White house with green trim, set back from the road.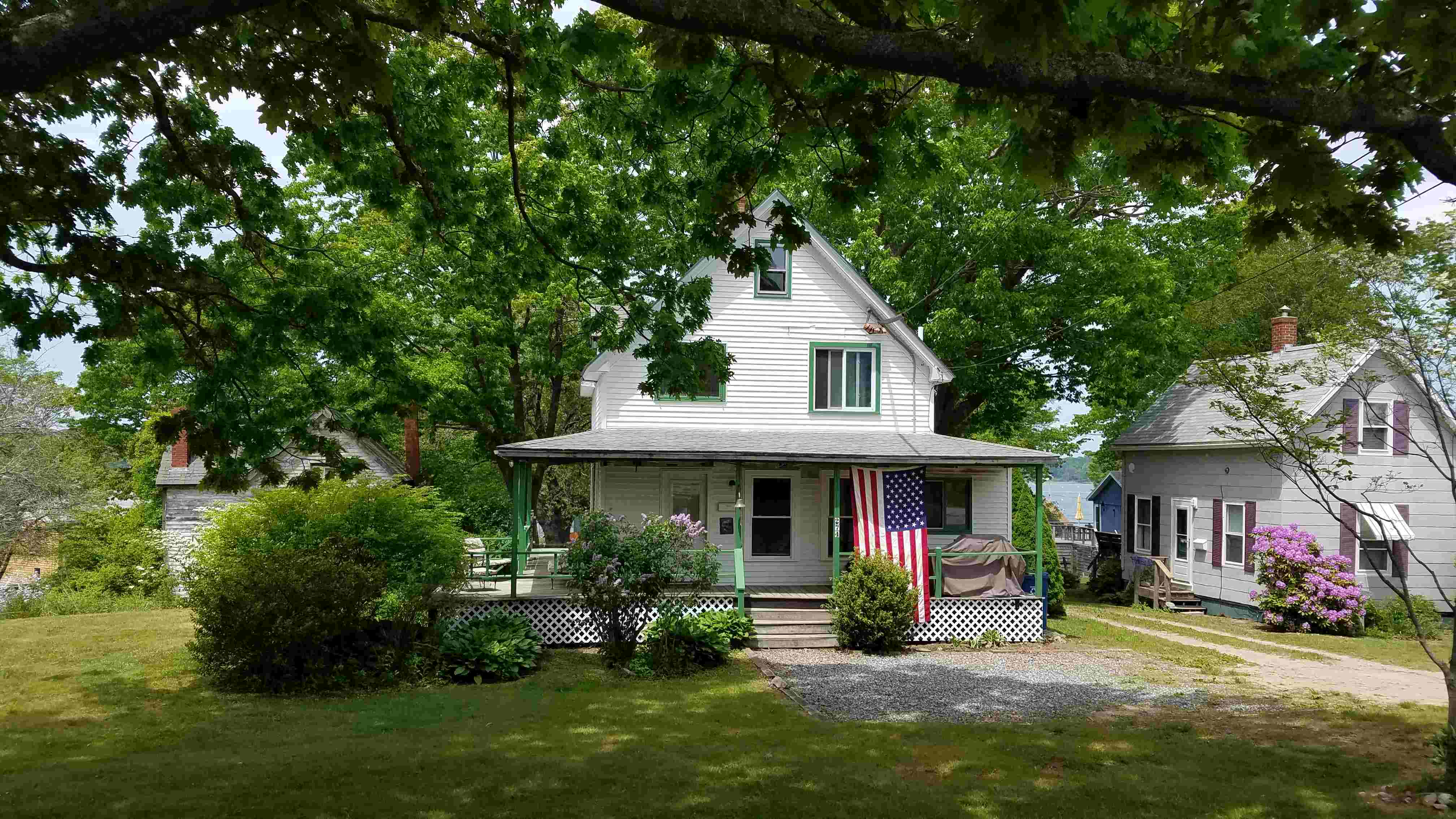 .
Parking
There is a 72-hour limit on the public lot by the ferry on Peaks Island.
To avoid needing your car on the island or the mainland,
there is an "island Cadillac" (a cart) on the porch, available for your shopping expeditions.