Chow Maine
Innovative chefs have sparked the sizzling restaurant scene in Portland
By Mimi Bigelow Steadman
Photographs by Jonathan Levitt
Portland, Maine, has long touted its multitude of restaurants, where diners can enjoy perfectly steamed lobster, great fried clams, and other well-prepared—if predictable—food. But in recent years, a new generation of intimate chef-owned establishments has been serving inventive creations starring Maine's bounty (lobster, yes, but so much more). Culinary tourists from New York, Boston, and elsewhere make pilgrimages to the most-talked-about places, joining legions of local devotees.
In 2004, the James Beard Foundation named Fore Street's Sam Hayward the Best Chef in the Northeast. Rob Evans of Hugo's garnered the same award in 2009. Also in 2009, Bon Appetit named Portland "America's foodiest small town." According to the magazine's restaurant editor, Andrew Knowlton, "A lot of Portland's restaurants would be great even if they were in New York City."
Getting started in Portland can be easier for an enterprising chef, though. Masa Miyake didn't have half a million dollars to open his eponymous restaurant in New York, where he worked at the Waldorf Astoria; he's found success here for less. Evans says he and his wife were sleeping on friends' couches when they bought Hugo's. "The bank worked with us," he says. "The community was supportive."
Hayward attributes the vibrant food scene to what he calls "a perfect convergence" of three elements. First, Portland chefs are using an eye-opening variety of Maine products. Second, farmers, fishermen, and foragers are supplying those chefs with outstanding ingredients. Instead of ordering standard cuts of meat and seafood from national provisioners, chefs buy animals from local sources and use every part they can. This means familiar dishes share menu space with such items as beef heart, monkfish liver, and cod cheeks. Third, Portland's diners have embraced the new dishes.
Meredith Goad, food writer for the Portland Press Herald and Maine Sunday Telegram, concurs. "Chefs tell me they realize local customers are their bread and butter," she says. "So they come up with innovative things, like smaller plates for lower prices, and special events like wine dinners, to get people in the door even in winter. They've kept folks coming back in the worst recession we've seen in years." They've also survived in a climate that might daunt chefs of lesser character. "The growing season is short, so they make the best of what they have," says Knowlton. "If you can cook well in Maine in February—that's what makes a great chef."
Here's a sampling of mouthwatering chef-owned restaurants in the heart of Portland.
---
Fore Street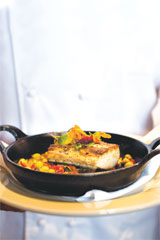 http://www.forestreet.biz
288 Fore Street
(207) 775-2717
Sunday–Thursday 5:30–10 p.m.
Friday and Saturday 5:30–10:30 p.m.
Sometimes called the godfather of both the Portland restaurant scene and its locavore movement, Sam Hayward continues to advise and encourage new chefs. In the central open kitchen of his AAA Three Diamond restaurant, which is located in a 1920s-era brick garage, staff bustle around the wood-burning oven, turnspit, and open fire preparing such favorites as wood-roasted mussels with chopped almonds in a rich, creamy broth ($10) and spit-roasted pork loin dry-rubbed with a house blend of spices and herbs ($23).
---
Bresca
http://www.restaurantbresca.com
111 Middle Street
(207) 772-1004
Tuesday–Saturday 5:30 p.m.–close
With seating for just 18 at tables pulled up to a banquette along one wall, this diminutive space feels like a private dining room where guests savor 2010 James Beard semifinalist Krista Kern Desjarlais' blend of French, Italian, and Maine food cultures. One appetizer, braised Tuscan black kale atop charred whole-grain bread spread with kombu (seaweed) butter and crowned with an egg and pancetta ($11), yields an unusual harmony of flavors. The moist honey-glazed duck breast ($25) alludes to the restaurant's name: Bresca means honeycomb in Catalan. Beginning this fall, Desjarlais and her husband, Erik (chef/owner of Evangeline, a small French restaurant), will offer monthly 12 Seats dinners at Bresca—12-course prix-fixe meals served to just a dozen diners.
---
Emilitsa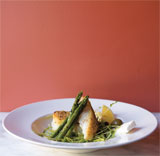 http://www.emilitsa.com
547 Congress Street
(207) 221-0245
Monday–Thursday 5–9 p.m., Friday and Saturday 5–10 p.m.
A 2009 semifinalist for James Beard's best new U.S. restaurant, Emilitsa offers upscale Greek dining in sleek surroundings. Bare mocha-hued walls frame a row of small tables set against a banquette appointed with plenty of throw pillows to settle into. Brothers Denos and John Regas share the duties, with Denos in the kitchen, John at the front of the house, and Denos' son Niko serving as chef de cuisine. They named the restaurant after their mother, Emily, and say the menu features foods she cooked when the brothers were young. One wonders if she prepared and plated the dishes so elegantly. Traditional items creatively interpreted include stuffed grape leaves ($9), spanakopita ($9), slow-braised lamb shank ($24), and grilled lamb loin chops ($28). If you like chicken livers, make sure to order the version here ($9).
---
Caiola's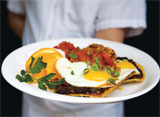 http://www.caiolas.com
58 Pine Street
(207) 772-1110
Tuesday–Thursday 5:30–9:30 p.m.,
Friday and Saturday 5:30–10 p.m.,
Sunday brunch 9 a.m.–2 p.m.
Handcrafted booths and tables, antique light fixtures, and local art create a cozy atmosphere at this neighborhood restaurant specializing in comfort food drawn from a spectrum of international cuisines. Abby Harmon, formerly of the highly regarded seafood restaurant Street and Co., receives rave reviews for her fish dishes. Highlights of the brunch menu are a fried-oyster po' boy ($12) and eggs tostada ($11). At dinner, paella ($22.95) is a perennial favorite.
---
Hugo's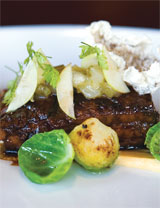 http://www.hugos.net
88 Middle Street
(207) 774-8538
Tuesday–Thursday 5:30–9 p.m.,
Friday and Saturday 5:30–9:30 p.m.
Spare decor—dusky walls, dark lacquered tables, and long burgundy draperies separating the small dining room from the even smaller bar—keeps the focus on Rob Evans' innovative preparations of strictly seasonal ingredients at this AAA Four Diamond restaurant. He presents them as exquisite small plates ($11–$24 each). Signature dishes include soups made from farmers' market vegetables garnished with a spicy milk foam and shaved foie gras crostini, Caesar salad with a grilled beef heart, and dashi-simmered beef short rib with seaweed slaw. The six-course chef's tasting menu might include an egg-yolk-like "orb" of cocktail sauce atop a single raw oyster, salty deep-fried cod skin that crunches like a potato chip, or coins of goat tenderloin cooked sous-vide and accompanied by goat belly and fried head cheese (tasting menu must be ordered by the entire table; $85 per person, or $115 with wine pairings).
---
Duckfat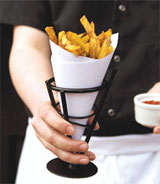 http://www.duckfat.com
43 Middle Street
(207) 774-8080
Sunday–Thursday 11 a.m.–9 p.m.,
Friday–Saturday 11 a.m.–10 p.m.
Strangers often opt to share the high counters and tables at this crowded casual eatery owned by Rob Evans of Hugo's. It's all about the fries (small $4.75; large $6.25), browned to a beautiful crispness in, yes, duck fat and served with such dipping sauces as truffle ketchup, aioli, and duck gravy. The "Pabst Blue Ribbon tall boy and a small fry" for $6 has to be the ultimate pairing. Indulgent paninis include duck confit ($13), homemade meatloaf ($8.50), and corned beef tongue Reuben ($8).
---
Paciarino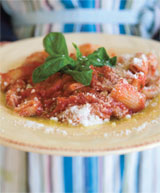 http://www.paciarino.com
468 Fore Street
(207) 774-3500
lunch Tuesday–Saturday 11:30 a.m.– 2:30 p.m.,
dinner Tuesday– Saturday 6–9 p.m.
Italian husband and wife Enrico Barbiero and Fabiana De Savino preside over this friendly place with sunny yellow and blue walls and large windows. In the kitchen just beyond an open archway, they prepare fresh pastas and sauces "like my grandmother used to make every day," says De Savino. The menu of about six choices changes daily but usually includes ravioli, tagliatelli, and fettuccine with pomodoro, Bolognese, or arrabbiata sauce ($7.25–$16.95). Lunchtime diners order from a chalkboard before sitting down; dinner guests are seated before ordering. The fresh sauces and pastas are also packaged and sold in the on-site store, which opens at 9:30 a.m.
---
Miyake
http://www.miyakerestaurants.com/
468 Fore Street
(207) 871-9170
lunch Monday–Friday 11:45 a.m.–1:45 p.m.,
dinner Monday–Saturday starting at 5:30 p.m. BYOB.
Remarkable flavors await beyond this tiny building's unprepossessing exterior. Sit at the bar to watch Masa Miyake at work. His "authentic Japanese sushi with a twist" reflects his training in French, Italian, and Japanese cuisines. Order the three-, five-, or seven-course omakase ($38–$75); it roughly means "I trust you" and leaves the selections to the chef. Miyake often prepares raw lobster tail in garlic oil and uni (sea urchin roe) still in the shell. Other menu choices include tuna three ways ($13) and a variety of sushi rolls ($13–$25). Miyake [recently opened] a second restaurant on nearby State Street that features ramen dishes.
---

Mimi Bigelow Steadman recently wrote about Edna St. Vincent Millay for Northern New England Journey.