<![if !vml]><![endif]>
What makes the Bunker the Bunker
Bunker Brewing Co. is an early 21st century small artisan brewery (or at least what we think one should smell, look, taste, and feel like). Located in the East Bayside neighborhood of Portland, Maine, our passion is creating the best experimental, traditional, and seasonal brews we can, three and a half barrels at a time. We also believe the future of beer lies in the community of people who supply, brew, and enjoy it. Founded by Chresten Sorensen and Jay Villani in 2011, The Bunker is located in a 1920s era garage of a defunct Portland scrapyard, surrounded by great artisans like Tandem Coffee Roasters, Maine Craft Distilling, and Rising Tide Brewing.
<![if !vml]>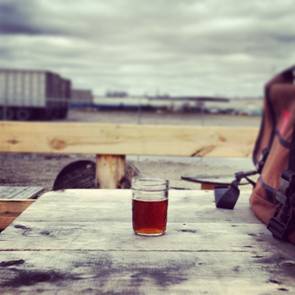 <![endif]>
Rising Tide Brewing Company
Rising Tide opened its doors in October of 2010 as a nano-brewery hand crafting ales in 40 gallon batches. We are now brewing on a new 15 barrel brewhouse in Portland's East Bayside neighborhood.  Rising Tide Brewing Company is a family-owned craft brewery. We specialize in artisanal, hand-crafted ales brewed in small batches. Our beers are available in 22 oz. bottles and on draft at select locations in Maine and Massachusetts.
Head Brewer and Owner
<![if !vml]>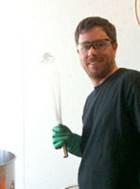 <![endif]>Rising Tide's beers are brewed by Nathan Sanborn, a Portland native. Prior to founding Rising Tide in 2010, Nathan spent more than a dozen years teaching himself about brewing, experimenting with creative recipes on his home-brewing system, and serving up his beers for feedback from friends and family. Nathan is fascinated by the science and the art of beer-making. He strives to create beers that are informed by traditional styles but with a creative, modern sensibility.
When he's not brewing and selling beer, Nathan likes to ski, sail, cycle, and cook for friends and family.
Calcutta Cutter
<![if !vml]>
<![endif]>Imperial IPA. Double IPA. XIPA. IIPA. Whatever you want to call it, Calcutta Cutter is our homage to hops. Lots of hops. Early hops. Late hops. Very late hops. Dry hops. Then we condition the bottles in a bed of hops. Well, maybe not that last bit, but you get the idea. With just enough malt body and alcohol to balance the beer out, we let the lupulin shine.
ABV: 8.7%
cutter (n)—a single-masted sailing vessel with the mast set about two-fifths of the way aft along the waterline
Maine Beer Company
<![if !vml]><![endif]>
Our Beers
Freshness is key with our beer. Aside from our stout (Mean Old Tom) we produce hoppy american style ales. Hops do not like age. So, please do not age them. They also have a date stamp on the bottle MM/DD/YY. The date is the born on date and we highly recommend drinking no later than 90 days old. The earlier they are consumed the better they will be.
Zoe
Our take on an American amber ale. Complex malt bill delivers notes of dark raisin, chocolate and biscuit. Copious additions of American hops yield notes of pine and citrus.
Vitals:Color – Deep Amber
ABV – 7.2%
O.G. – 1.064
Malt – American 2-Row, English Maris Otter, Caramel 40L, Caramel 80L, Victory, Munich 10L, Chocolate
Hops – Simcoe, Centennial, Columbus
Do What's Right
We told ourselves that if we can't do things right then we wouldn't do them at all. To be honest, we really didn't know if it would work, but because of everyone who buys our beer and all of the great people who work with us, we are actually making it happen. We are always trying to be better at making quality beer, treating our employees well, and taking care of our earth and the creatures that live on it.
We donate 1% of our gross sales to environmental non-profits We support local charities with a portion of our tasting room sales We use high-efficiency LED and flourescent lighting We purchase e-certified wind credits to offset 100% of our electricity. We donate our spent grain to a local farmers. We use environmentally-safe cleaners whenever possible. We have hand dryers and recycled toilet paper in our restrooms. We offer full health benefits and paid vacation for all full-time employees. We have highly efficient radiant heat in our brewery slab.
And we always welcome suggestions and comments to help us improve!  Thank you for buying our beer and telling your friends!
Cheers to you, David
<![if !vml]>

<![endif]>
<![if !vml]><![endif]>

<![if !vml]><![endif]>
Starting Gravity: 1069
Hops: (60 I.B.U.s) Cascade, Willamette, Warrior

Maine's Best IPA is a unique blend of American hops with a British body utilizing English 2-Row Pale malts. This IPA starts with a hoppy aroma and taste; ending with a sweet finish. Plenty of Munich and caramalts are used to give the beer that golden hue. There are fifty-six pounds of Cascade Hops used in each 50 barrel batch that is brewed! Then we finish the beer with Willamette & Warrior Hops, (Warrior is a high-alpha acid variety of hops).

<![if !supportMisalignedRows]>
<![endif]> <![if !supportMisalignedRows]>
<![endif]>

<![if !vml]><![endif]>
<![if !vml]><![endif]>
Starting Gravity: 1064
Finish: 1016
Hops: (28.5 I.B.U.s) Cluster, Styrian Goldings,
Saaz, Yakima Goldings
Availability: 6 and 12-packs, 22 oz bottles, mini-kegs and draft

If it looks like Ed just got merrier, you're right. Every November heralds the return of our holiday seasonal, Christmas Ale – available on draft and in six-packs. Our Christmas Ale is a robust E.S.B. (Extra Special Bitter) full of holiday cheer. Christmas Ale has a lovely, dark red/amber color and a rich, full-bodied, malty taste with a slightly roasted undertone. We brew our Christmas Ale to an original gravity of 1064 (about 6.2% alcohol by volume) using only the finest English Pale and Crystal Malts, with a touch of Roasted Barley as well. A blend of Clusters, Styrian Goldings, Saaz and Yakima Goldings leaf hops round out this hearty brew. Gritty's Christmas Ale has no additives, fruits or spices. It's just a good honest ale, perfect for the season. And to top it all off, it's already gift-wrapped! Happy Holidays

<![if !supportMisalignedRows]>
<![endif]> <![if !supportMisalignedRows]>
<![endif]>
Maine Craft Distilling
A FARM to FLASK Distillery
Producing small batch spirits in beautiful Portland, Maine
The Spirits
Chesuncook

Gin

Alchemy Gin

Ration Rum

QueeQueg

Spiced Rum

Black Cap Vodka

Blueshine
Our Story
Chief Distiller Luke Davidson was raised in a self-sufficient agrarian Maine community sustained by a barter economy between neighboring farms. In that setting, Luke learned the essence of community and the interrelation between community and agriculture. He dreamed of leveraging his strong sense of the Maine community, his love of agriculture, and his desire to make whiskey. But how?
A man of many talents, Luke was building a post and beam barn and musing on long-held dreams with friends when he conceived the seeds of the idea of a farm-to-flask distillery that would become Maine Craft Distilling.
<![if !vml]>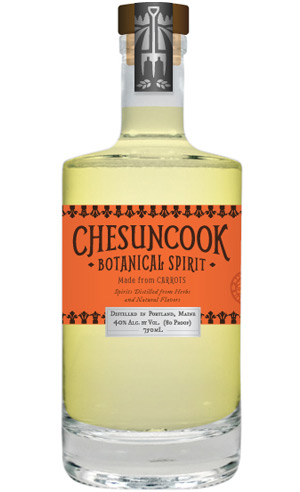 <![endif]>Maine Craft Distilling marries Maine agricultural products to traditional methods, creating unique spirits that combine the terroir of Maine with Luke's perfectionist sense of craft. Building stills from repurposed tomato juice vats and washbacks from Maine-grown fir, Luke has imbued Maine Craft Distilling with his Yankee, can-do approach to life and liquor.
The dream we discussed in that barn in October of 2011 is alive and well at 101 Fox Street in Portland, Maine. Come by and have a taste!
Chesuncook Botanical Spirit
45% Alc by Vol (90 Proof) 750 ml
Most people don't think of carrots when they think of spirits. We do. In fact, we thought of all kinds of things when creating our botanical spirit. Chesuncook is an Abenaki word meaning "the meeting place" or "where the waters meet"; in the spirit of a meeting place, we drew inspiration from the diverse gifts given us by our fertile soils to create a truly unique spirit. Unique, just like us. As you sip Chesuncook, you'll notice carrots, but you'll also notice juniper, mint, coriander, and a distinct flavor of Maine.
Maine Mead Works
<![if !vml]>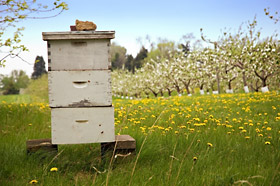 <![endif]>Maine Mead Works was founded in 2007 with the goal of re-introducing the world to the oldest of all fermented beverages. Using locally sourced honey, clear, pure water and our own proprietary yeast strain, we blend ancient tradition and modern science to produce distinctive wines at our meadery in downtown Portland, Maine.
In collaboration with South African scholar Dr. Garth Cambray, Maine Mead Works developed a state-of-the-art continuous fermentation system, bringing mead making into the 21st century. HoneyMaker, a decidedly modern mead — crisp, dry and refreshing — is the result.
A Sense of Place
Ultimately, Maine Mead Works is about Maine — the fields, forests and flowers that make HoneyMaker great. Owners Ben Alexander and Carly Cope, along with their growing family of employees, believe in the wisdom of handcrafting and small batch production. Today, the company that began as an experiment in sustainability has grown into a foodie favorite at the forefront of the local, artisanal movement.
Ingredients ranging from wildflower honey to Glendarragh Farms English lavender, Snell and Maxwell Farms strawberries and Heath Hill Farms elderberries, are sourced locally . Every bottle of HoneyMaker mead supports family farms, encourages apiculture and enhances biodiversity. Of course, it also tastes great — here, amidst the natural splendor of our great state or further afield.
- See more at: http://mainemeadworks.com/about-maine-mead-works/#sthash.qVcZO4Ql.dpuf
Urban Farm Fermentory
Founded in March 2010 by entrepeneur Eli Cayer, a Mainer himself, the Urban Farm Fermentory (or UFF) is an experimental fermentation center. We source as many local ingredients as possible in an attempt to highlight and preserve Maine's unique terroir. Our array of fresh pressed Maine apple cider is spontaneously (or wild) fermented in a Farmhouse style until it's bone dry & tart. "Spontaneous fermentation" utilizes naturally-occurring yeast in the air and on the fruit, which means even the yeast culture in our cider is local.
Our potent, probiotic Kombucha (fermented tea), with its 1.5% ABV and tart, acidic bite, is one of the few true examples of the form left after the infamous kombucha crackdown of 2010. For more information on our assorted products, please visit the PRODUCTS page, which is currently under development.
We offer free samples at our 200 Anderson St. Portland, ME facility during tasting room hours: Thursday 4-7pm, Friday 12-7pm, and Saturday 12-7pm. Follow our Facebook page for announcements of limited kombuchas and cidahs available on-site only.
Cidahs
<![if !vml]>
<![endif]>
Dry Cidah – 6.8% ABV
Our flagship dry is brewed using 100% fresh pressed Maine apples. We use wild Maine yeast to ferment this classic, which has varied levels of funk depending on the batch it came from. Crisp, tart, acidic, and refreshing, this is the definition of Maine terroir.
Sour Cidah – 5% ABV
The newest addition to our lineup combines cidah with our famous unadultured kombucha. This drink is for those that are looking for a cider with meaning behind it. We are happy to say this is the only kombucha hard cider available around the world.
Availability: 12oz bottles year-round, Maine & Massachusetts
Baby Jimmy – 6.8% ABV
This bourbon barrel aged cidah always makes waves at festivals for its complex oaky, funky notes that flip peoples perception of what hard cider can be. A nod to it's father Jim Beam vessel, Baby Jimmy is always a special occasion.
Availability: 750mL bottles, Maine